(Last Updated On: April 16, 2021)
We live in an era of technology and we can't but enjoy the blessings of it. Electricity is an inevitable object and without it, we can't think of a moment. Most of our technical gadgets, apparatus, and appliances run with electricity. However, there might be many hazards of electricity too. Unless we are careful enough to use electricity, the risk is too high. Electrical safety symbols are here to assist us with precaution and alert.
Electrical Safety Symbols
In this article, I am going to talk about 44 Electrical Safety Symbols Signs Meaning to Know about.
There are two common, basic rules of Electrical safety signs: the signs will be stylized with bold backgrounds in order to properly warn people, and the sign must be placed in a clearly visible position.
The objective of placing the symbols is to alert people for serious injuries that might cause by an impending burn, electric shocks, or hazards. Electrical hazards must be minimized by precaution and safety measures.
It is not a surprise that a good number of electrical accidents take place globally, in every corner of the world, whereas with proper knowledge, learning, training, and placement of signs, the tragedies can be prevented, or protected. 
No doubt, electrical safety is very crucial for everyone, regardless you come in touch with direct contact with electricity, or just encounter electrical appliances at work or home, without thinking much. You should also love to read the electrical safety tips.
One of the greatest ways to keep yourself safe and away from all unwanted hazards and being safe around electricity is to rightly understand the basic electrical safety symbols placed here and there. Below, you will find useful Instruction regarding electrical signs:
Description

 Symbol

Electricity Symbol


Among all other electricity signs, the common is a lightning bolt. A black thunder blot is seen on the yellow, triangular background. However, color and shape may differ.

Electrical Safety Symbols – Voltage or Shock Hazard Symbol


This very symbol demonstrates a bolt or a bolt through a hand, with a red circle and a line across. The sign alerts about injury, casualty, or death that is likely to take place from high-voltage electrical equipment nearby. The red color represents a danger alert.

Electrical Safety Symbols – Static Hazards
A lightning bolt on the bottom of a shoe signifies that there is a danger of an explosion occurring from static electricity. The sign is mostly black text on a yellow background.
Electrical Safety Symbols – Health & Safety


There are many causes, including wet floors, fire exits, electrical safety conditions, to display the Health and safety signs. The danger would often be mentioned using one word written across the sign on electrical safety signs that address health and safety. The sign is mostly black text on a yellow, triangular background.

Electrical Safety Symbols – Buried Cable Symbol
This is a particular sign with black text on the white background. A bolt with an arrow pointed downward is used to identify buried cable signs. The red color represents a danger alert.
The places to find the Electrical Safety Symbols
The electrical safety signs described here to be seen in many visible places. You need to keep your eyes open and understand the emergency of signs or language. Don't this the color and text to be as same as demonstrated here, keep your senses open to find if there is any change in reality.
Electrical Safety Symbols – Electrical Devices
Electrical appliances are very sensitive to use. Appliances, gadgets, switches, wire boxes, types of equipment, and other electrical devices to be often marked with an electrical safety sign, in order to warn users of what dangers might be occurring during use.
Electrical Safety Symbols- Restricted Areas
There are some areas to be away from civilians. You may see visible Prohibition signs in areas to prevent people from walking into and around a danger zone. High-voltage areas such as substations or areas where high-voltage electricity is used, display these signs.
Electrical Safety Symbols – Danger/Safety (Universal)
The danger or safety symbol is used for all in order to alert against danger and sometimes guide about safety as well. The universal symbol shows a triangle with an enclosed exclamation point.
Electrical safety signs to learn
Types of Electrical Safety Symbols
Simplified, stylistic symbols are good to use in place of a long description or a bunch of text. Apart from the signs mentioned above, there are many other kinds of electrical safety signs used on electrical safety signs in order to render civilians useful information on the likelihood of electrical accidents when the signs are ignored.
Portable Appliance Testing (PAT) signs
Portable Appliance Testing (PAT) helps us to identify the status and usability condition of an appliance. Upon successful PAT testing, the following labels are stuck on electrical appliances, gadgets, and accessories:
The authority recommends whether an electrical appliance or gadget is safe or unsafe to use. The sign may be circular or rectangular in shape, green, white, or red in color, and placed in a visible location.
The colors mean a lot in the PAT symbols. The green 'passed' PAT label represents the date of the test as well as the name of the person who carried out the test, along with the date of the next test is due.
On the other hand, any equipment with a red 'failed' PAT label is a kind of alert and strongly recommends that we should stop using or touching as soon as possible.

There are some other visible labels, which are similar to the red and green PAT labels, that authenticate whether equipment, gadgets, appliances, and instruments have been checked and are safe to use until a certain period of time (next test dates may be incorporated to the symbol sticker as well):

Electrical Hazard Warning Signs
Electrical safety signs of these kinds are commonly found around workplaces – especially construction sites, big workshops, factories, and farms where the use of high-voltage electrical equipment or cables is a routine –
as well as in any building, construction, or location where electricity may cause imminent danger. The text, shape, size, and color of the signs may vary from place to place, but the pictograms are the same and universal, such as: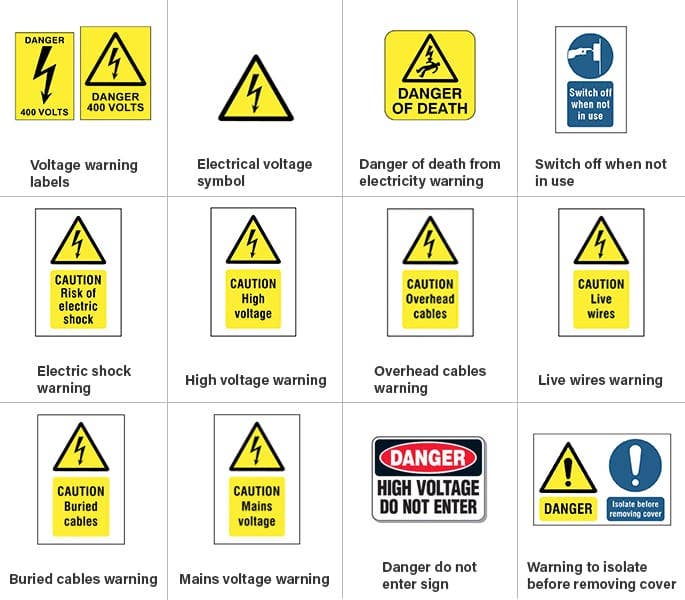 More Interesting Articles