(Last Updated On: April 16, 2021)
Civilization has not come to the current state in a day. There are a lot of continuous efforts, contributions, inventions, discoveries, sacrifice, and hard work from many people from generations and countries. We can't but study and pay respect to the contributions and significance of African American Inventors and entrepreneurs in our society. This article will give an overview of African American Inventors from history.
African American Inventors
Here is a list of contributors from remarkable African American Inventors of all times:
1. Granville T. Woods had more than 60 patents
Granville T. Woods, one of the African American inventors, was an American inventor with his more than 60 patents during his lifetime. He made key contributions to the event of the phone, streetcar, incubator, telegraphony, Synchronous Multiplex Railway Telegraph, safety dimmer, air brake, and more.
It was 1887 when Granville T Woods patented the Synchronous Multiplex Railway Telegraph, his first invention. He is named as the "Black Edison" for his extraordinary quality.
2. Jan Ernst Matzeliger invented the sneaker shoe machine
During the 19th century, the typical particular person could not afford sneakers. This modified due
Jan Ernst Matzeliger (1852-1889), a Dutch Guiana (now, Surinam) immigrant had been working in a Massachusetts shoe manufacturing company during the 19th century, a time when shoes and sneakers were not affordable to common people.
It was Matzeliger who invented the automatic machine in order to connect a shoe's higher half to its sole. This automation made a revolution in the shoe industry, sales increased dramatically, with minimized and affordable cost to the common people.
3. Alexander Miles invented automated doorways
Alexander Miles (1830s–1918), one of the African American inventors, an inhabitant in Duluth, Minnesota designed a crucial security function for elevators: automated doorways, and patented in 1887. This very technology is being used even in the present day.
Earlier, in the 19th century, passengers needed to manually open and shut doorways to each elevator and its shaft and used to cause many risks and hazards.
4. James Forten invented the sail loft for the boats
Philadelphia, Pennsylvania born James Forten (1766–1842), one of the African American inventors,

He used to work in the US Navy and worked under an expert sailmaker as an apprentice. During this time, he invented a smart device that can handle sails more professionally with ease. This sail loft technology brought a revolution in ocean exploration and voyages.
5. George Peake invented a stone hand mill
George Peake (1722–1827) invented a stone hand mill which was a quite labor-saving device for the farmers. The credit also goes to Indians who taught the settlers to grind corn with a pestle which was a pounding device having a mortar, or vessel in it.
Peake's invention brought a great change in the grinding and crushing filed.
6. Mary Beatrice Davidson Kenner invented patented the sanitary belt
Mary Beatrice Davidson Kenner (1912-2006) one of the African American inventors patented the sanitary belt in 1957, which could be adjusted and had a moisture-proof serviette pocket in a time the place girls have been nonetheless utilizing fabric pads for her period.
Apart from this belt, Kenner invented a serving tray, a restroom tissue holder, as well as a back washer that might be hanged on the wall while bathing.
7. Mark E. Dean is the co-creator of IBM's personal computer
Mark E. Dean is a computer engineer and one of the co-creators of IBM's personal computer. Additionally, he also developed the ISA bus as well as a one-gigahertz computer processor chip. This 1957 born African American inventor holds three of nine PC patents.
8. Shirley Jackson invented telecommunication caller ID, call waiting, etc
Dr. Jackson has brought a revolution by her invention of portable fax, the touch-tone telephone, solar cells, fiber optic cables, as well as the technology behind caller ID and call waiting. Her inventions had brought a breakthrough in the entire telecommunications sector worldwide.
President Barack Obama named her the co-chair of the President's Intelligence Advisory in 2014.
9. Madam C. J. Walker invented the hair-straightening formula
Madam C. J. Walker, one of the African American inventors, is also known as America's first self-made feminine millionaire— and invented the hair-straightening formula for her hair care and cosmetics business. The invention however has brought a great impact on the hair care field.
9. Thomas L. Jennings invented

dry-scouring

Thomas L. Jennings (1791-1859), one of the African American inventors, is the first African American to be granted a patent that he took in 1821 for his process "dry-scouring"

He invented an early methodology of dry cleansing referred to as "dry scouring" that brought a breakthrough in the dry cleaning industry for the first time.
10. Charles Richard Drew invented

storage and processing techniques of blood for transfusions
Numerous people owe their lives to Charles Richard Drew (1904-1950), one of the African American inventors, the doctor accountable for America's first main blood banks.
He helped gather hundreds of pints of plasma from New York hospitals and shipped them abroad to deal with European troopers during WWII. He introduced "bloodmobiles"—refrigerated vans that serve as an assortment of facilities and transport blood.
11. Percy Lavon Julian invented Synthetic cortisone
American chemist, Percy Lavon Julian, one of the African American inventors, made numerous contributions to trendy drugs on account of experimenting with soybeans.
He synthesized a drug referred to as physostigmine, which is used to deal with glaucoma. Julian additionally found easy methods to mass-produce synthetic cortisone and the steroid progesterone, which was used to supply sex hormones.
12. Marie Van Brittan Brown invented a home security system
Marie Van Brittan Brown (1922-1999) along with her spouse Albert Brown invented the home security system and received a patent in 1969 for the great invention that improved the security of home.
The invention was the motorized camera that could snap photos onto a TV monitor. The gadget additionally included a two-way microphone to talk with an individual outdoors, and an emergency alarm button to inform the police.
13. George Carruthers invented the spectrograph and lens
George Carruthers (born 1939), one of the African American inventors, is an astrophysicist who invented the the the ultraviolet digital camera/spectrograph, which NASA used when it launched Apollo 16 in 1972.
This breakthrough invention helped show that molecular hydrogen existed in the interstellar area.
14. Benjamin Banneker invented a wooden clock and an Almanac
Benjamin Banneker (1731–1806), one of the African American inventors, was a self-taught mathematician and surveyor. When he was 21, Banneker invented a pocket watch. In the following year, Banneker invented a clock out of wood, which saved time and effort for more than 40 years.

In 1792, Banneker also invented an Almanac, an important book in the 18th century, and recorded tide tables, dates of lunar and photo voltaic eclipses, holidays, and phases of the moon.
15. George Washington Carver invented sweet potatoes, soybeans, and peanuts products.
George Washington Carver, one of the African American inventors,  is famous for his invention of several products made of peanuts, sweet potatoes, and soybeans, in order to use like plastics, paints, dyes, and a type of gasoline.
16. Wally Amos initiated new brands of cookies and chocolates
Wally Amos, one of the African American inventors, is famous for his well-known Amos cookie concept.
He founded the Famous Amos chocolate-chip cookie, Uncle Noname Gourmet Muffins, the Cookie Kahuna, and Aunt Della's Cookies gourmet cookie brands, in 1975
17. Berry Gordy Jr. established Motown Records
In 1959, Berry Gordy Jr., one of the African American inventors, established the corporate that may develop into Motown Records and turned as the largest Black-owned company in the entire United States in 1960.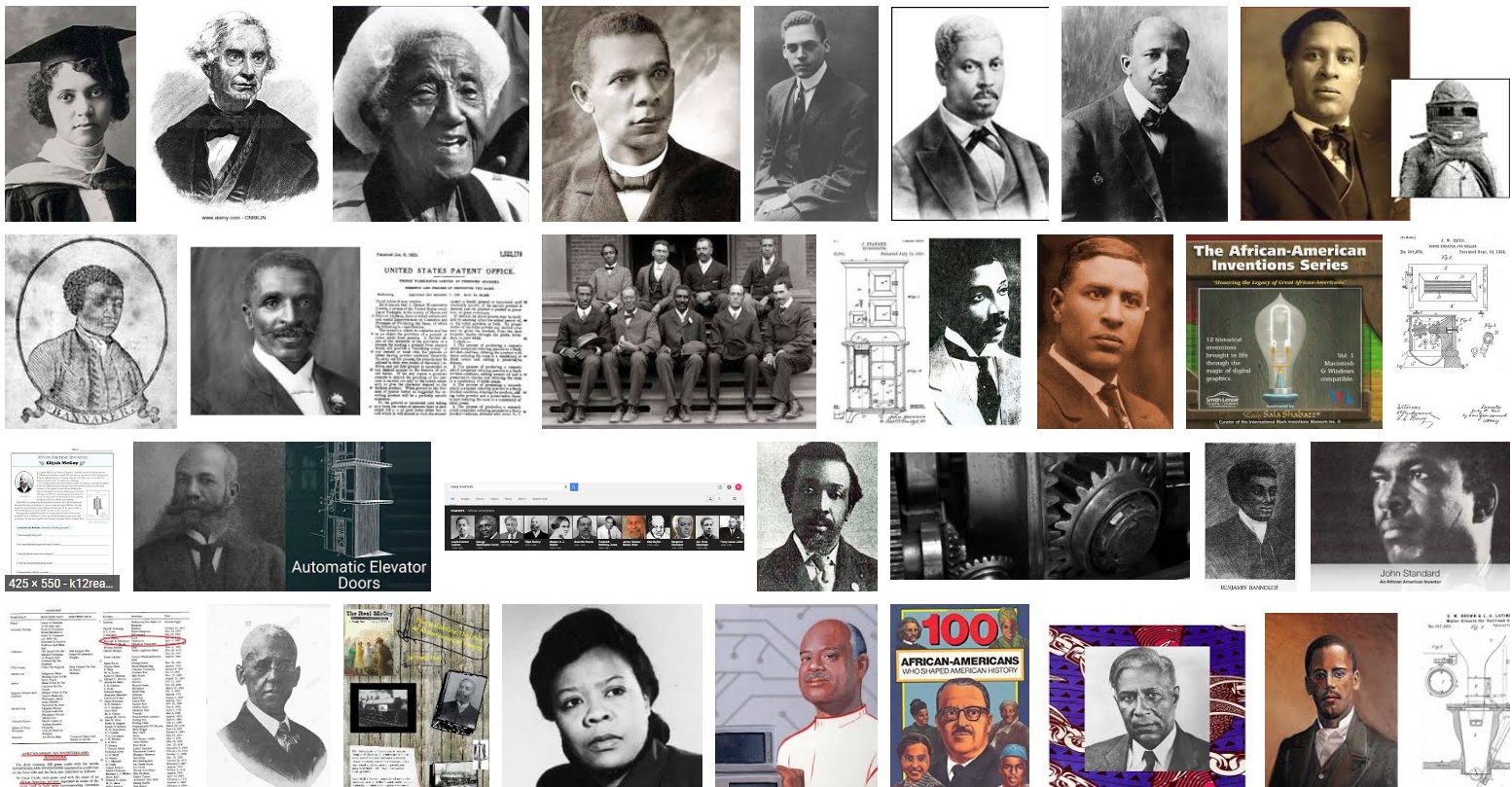 18. Patricia Era Bath invented the Laserphaco Probe
Patricia Era Bath was an African-American woman who invented a medical device named in the Laserphaco Probe that improved how lasers remove cataracts. With this great invention, millions of people could save their eyes. She was the first African-American woman to get a patent in 1988 for great medical innovation.
19. Garret Morgan invented the Traffic light and Gasmask
With her invention of the gas mask, Garret Morgan saved the lives of many people. She is also the inventor of a traffic light system that brought a breakthrough in the entire traffic management system.
20. Lonnie G. Johnson invented the Super Soaker water gun
While his service at NASA, Lonnie G. Johnson invented the Super Soaker water gun that became very popular and made him a billionaire.

21. Robert L. Johnson founded Black Entertainment Television (BET)
Robert L. Johnson is an entrepreneur who has been popular for founding the Black Entertainment Television (BET) in 1979. It is to be noted that BET is the first African American-owned company listed on the New York Stock Exchange. He's the nation's first African American billionaire.
22. Henry Blair invented
a cotton planter
Henry Blair was the second African American inventor who receives a US patent in 1836 for inventing a cotton planter. He was a farmer by profession and his invention brought efficiency in farming for many farmers. The automated cotton planter could split the ground with two shovel-like blades which were pulled along by a horse or other cattle.
23. Tyra Banks
In 1996, former supermodel Tyra Banks turned the primary African American girl to seem on the duvet of GQ.
A year later, she turned the primary black girl to seem on the duvet of the Sports activities Illustrated swimsuit version, in addition to the primary black girl to be featured in Victoria's Secret lingerie catalog. Within the 1990s, Tyra Banks pursued an appearing profession.
She made her debut in 1993 with a seven-episode stint on "The Recent Prince of Bel-Air." In 1995, she had a starring position within the film drama "Increased Studying."
She was in a position to flip her runway success right into a multimedia model and labored concurrently on the helm of two profitable TV sequence.
24. George Crum is named for producing potato chips
By profession, George Crum was a chef but was not complacent with his mediocre profession. He is now named as one of the prominent African American inventors, and restaurateur. He has gained fame by producing healthy, slim, crispy potato chips throughout the summer of 1853, which is still popular even now.
25. Tyler Perry is a media personality, director, actor, and producer
Tyler Perry is an author, actor, producer, and director. H is an African American to runs popular movie and TV programs. Forbes has listed Perry as the highest-paid man in entertainment in 2011.
26. Kenneth Chenault a Fortune 500 business executive
With his innovative contribution to entrepreneurship, Kenneth Chenault is the first African Individual in the Fortune 500 firms.
27. Lisa Gelobter contributed to developing internet animation
Lisa Gelobter has contributed to animated Gif, Shockwave technology, and online video.
28. James Edward West invented the microphone and electret microphone
James Edward West invented an electret microphone, a compact gadget that's now utilized in 90 % of all modern microphones. In 2007, President George W. Bush awarded him the 2006 National Medal of Technology.
29. Russell Simmons is an entrepreneur, record executive, writer, and film producer
Russell Simmons has founded companies like Rush Communications, Def Jam Recordings, Phat Farm, Argyleculture, and Tantris.
More Interesting Articles